Moving Forward from COVID-19: Adapting to Remote Interaction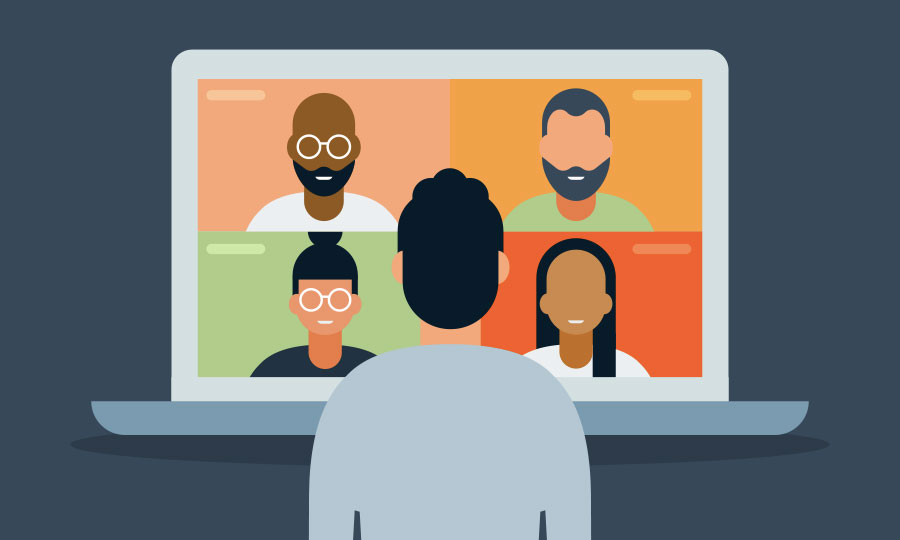 Technology plays a part in almost every aspect of our lives, including communication, education, entertainment, and even security. It's now standard for the average person to have a cell phone in their pocket and a computer at their home and office, making digital communication and interaction easily accessible.
Technology has evolved to help many different fields and industries of business thrive, continuing to progress every second of every day. The technological advancements that our society has seen over the past few decades have been miraculous, and we all know that the future of technology holds even more growth.
Many B2B companies have been transitioning into more remote interaction from a business standpoint, utilizing different strategies and approaches that go along with this concept to achieve success.
Convenient Applications
Because of the recent outbreak of the Coronavirus disease, society has carefully learned how to continue communicating with a sense of normalcy by interacting via technology. Bernard Marr, who wrote a Forbes article about the COVID-19 digital transformation, discusses how technological interaction has given us the "ability to work from home, telehealth, remote learning, and events going virtual."
These achievements are now possible due to various communication applications that we have become comfortable with throughout the strict social distancing orders.
Schools and companies have turned to different applications like Zoom and FaceTime that allow you to have video meetings or conferences with multiple different people at once. These convenient applications have allowed many B2B companies to communicate with each other faster than those scheduled face-to-face meetings that were occurring before the Coronavirus pandemic.
Communication applications like Zoom have given companies the initiative to move forward with business projects and make sales to buyers. Moving on from the COVID-19 pandemic, it's a good idea to continue to incorporate these suitable applications within schools, workplaces, or within other concepts.
These applications carry enormous benefits such as cost-effectiveness and the ability to meet with people within a rapid time-frame, allowing for fast-tracking. According to an informational article written by Avantika Monnappa, "Fast-tracking is a technique where activities that would have been performed sequentially using the original schedule are performed in parallel. In other words, fast-tracking a project means the activities are worked on simultaneously instead of waiting for each piece to be completed separately. But fast-tracking can only be applied if the activities in question can actually be overlapped."
The different digital communication applications that we have sufficiently become comfortable with have allowed for a smoother transition. Incorporating and utilizing these various applications can only improve your progress as a B2B company due to the many remote interaction benefits.
---
Read the Blog: 3 Steps to Improving Communications as a B2B Company
---
Creating Structure
Since the Coronavirus broke out, many individual employees of large B2B companies have had to work from home and learn how to utilize different technological communication applications. Many companies have allowed their employees to transition digitally, rather than completely laying them off like other companies have had to do.
That being said, employees who are fortunate enough to have been allowed to continue to work from home will only succeed by creating their own structure to accomplish tasks. Transitioning into more remote interaction is less of a headache in 2020 than it would have been even five years prior, all because of the convenient applications that are currently available.
The main obstacle that comes with working from home is that employees can quickly become distracted by their surroundings, depending on where they choose to do their work. Generally, there is less supervision while working from home, making it easier for employees to fall behind on their duties; this is when a well-developed structure is needed.
A blog posted by Timely discusses the different ways companies can transfer to remote work, going along to say, "Essentially, employees need to establish their own mechanisms for individual self-management – creating the daily routines, work environments and work structures that help them achieve their weekly goals. Many people new to remote work like to try time blocking – where you set aside finite blocks of time to work on certain tasks to help you stay focused."
For employees working from home, creating and relying on to-do lists is another way to maintain a structured environment that promotes achieving company goals. Having a work-oriented mindset and a productive work environment is necessary to get those to-do lists accomplished.
It can be valuable for B2B companies to have video conferences or discussions with their work-from-home employees about different tips and strategies they can implement to optimize their work environment and performance.
---
Read the Blog: Best Marketing Practices for Businesses During the Coronavirus
---
The Future of Remote Interaction
After many people had no other choice but to adapt to using online communication applications to continue with their occupational duties as employees that work from home, business leaders have taken the many benefits of the digital transition into consideration for the future. According to data shown in a Brookings Institution article by Katherine Guyot and Isabel V. Sawhill,nearly one in five chief financial officers surveyed said they planned to keep at least 20% of their workforce working remotely to cut costs.
Brookings also states, "In the post-pandemic world, [remote interaction] may stay with us as a popular practice that, if done well, can improve job satisfaction, raise productivity, reduce emissions, and spread work to more remote regions."
Companies should now assume that remote technology and its advances will forever be a part of the business world. To come out of the pandemic stronger than ever, businesses must acknowledge and understand the significant benefits and impacts of communicating remotely.
If used efficiently and to its full potential, remote interaction can ultimately improve the bottom line of companies willing to adapt.
---
Sources
Guyot, Katherine, and Isabel V Sawhill. "Telecommuting Will Likely Continue Long after the Pandemic." Brookings, The Brookings Institution, 6 Apr. 2020, www.brookings.edu/blog/up-front/2020/04/06/telecommuting-will-likely-continue-long-after-the-pandemic/.
Marr, Bernard. "How The COVID-19 Pandemic Is Fast-Tracking Digital Transformation In Companies." Forbes, Forbes Media LLC., 17 Mar. 2020, www.forbes.com/sites/bernardmarr/2020/03/17/how-the-covid-19-pandemic-is-fast-tracking-digital-transformation-in-companies/#13be0ccea8ee.
Monnappa, Avantika. "Project Management Learning Series: Fast Tracking Versus Crashing." Simplilearn, Simplilearn Solutions, 5 Mar. 2020, www.simplilearn.com/fast-tracking-vs-crashing-article.
"Six Ways Companies Can Transition to Remote Work." Timely, Memory AS, 16 Mar. 2020, memory.ai/timely-blog/transition-to-remote-work.