We're Your Social Media Marketing Experts in Lafayette, LA
Social media marketing has become a prominent method of marketing for businesses of all sizes. With billions of active users on social media every day, it's no surprise that
97% of marketers are currently using social media as a part of their marketing strategies.
Although nearly every marketer is using social media, a study conducted by Social Media Examiner revealed that 85% of participants aren't sure what social media marketing tools are best. Social media marketing only reaching its maximum potential when executed strategically.
If you aren't using social media marketing to its full potential, what are you missing out on? There are many benefits that come with professional social media management. Some of the benefits of social media marketing include:
Increased brand awareness

Improved conversion rates

More inbound traffic

Decreased marketing spend

Higher search engine rankings
Social media management is an essential service for small and medium-sized businesses that want to be top performers in today's competitive marketplace. Teamwork is an experienced marketing firm and our strategic approach can transform your social media presence into a lead-generating powerhouse.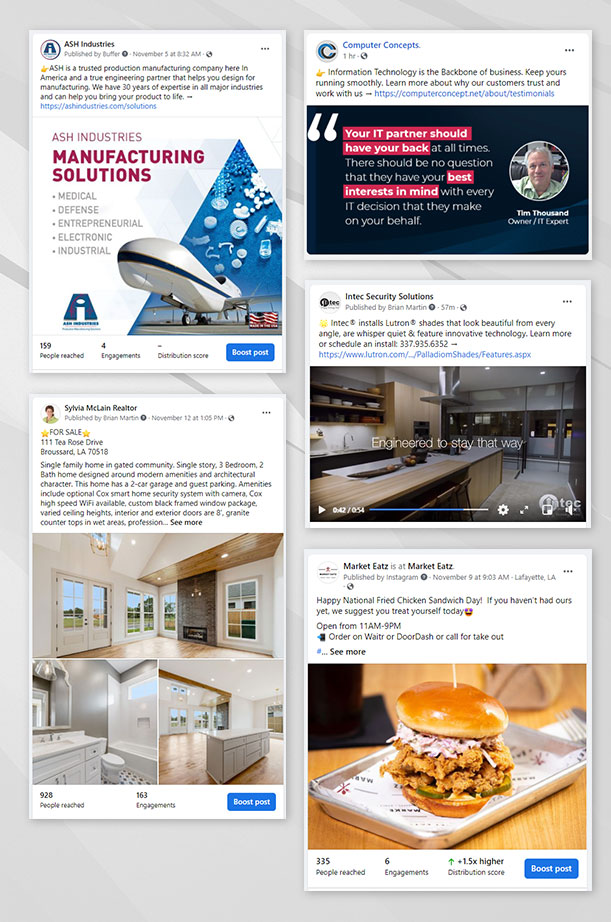 Teamwork's Social Media Management
Are you looking for Lafayette's premier social media management agency? Teamwork Solutions has years of experience in proven, persuasive social media strategies that not only engage your target audiences but also build a following of dedicated customers.
Our Social Media Management Process
Identify your goals

Assess your social presence

Gauge the best platforms for your industry

Brainstorm creative ways to engage your target audience

identify untapped opportunities

Create the best social media strategy to get measurable, real results.
You can trust Teamwork to develop the social media strategy that will help you achieve your goals, whether you're looking to increase website visits, generate more leads, close more deals, or a combination of the three.
Your Winning Social Media Marketing Agency
Let's work together to utilize the power of social media to achieve your end of year goals and grow your business in the years ahead. Give us a call today to start a productive conversation about unlocking your business's true potential with Teamwork's turnkey social media management.
Contact us or call now: (337) 456-3300